CASE 680K TRACTOR LOADER BACKHOE SERVICE PARTS OPERATORS MANUAL SHOP SET OVHL
Case 680K Loader Backhoe
Service Parts & Operators Manuals
Covers all years and serial numbers
Entire Machine, All Components


Complete Service/Repair/Overhaul/Parts/Operations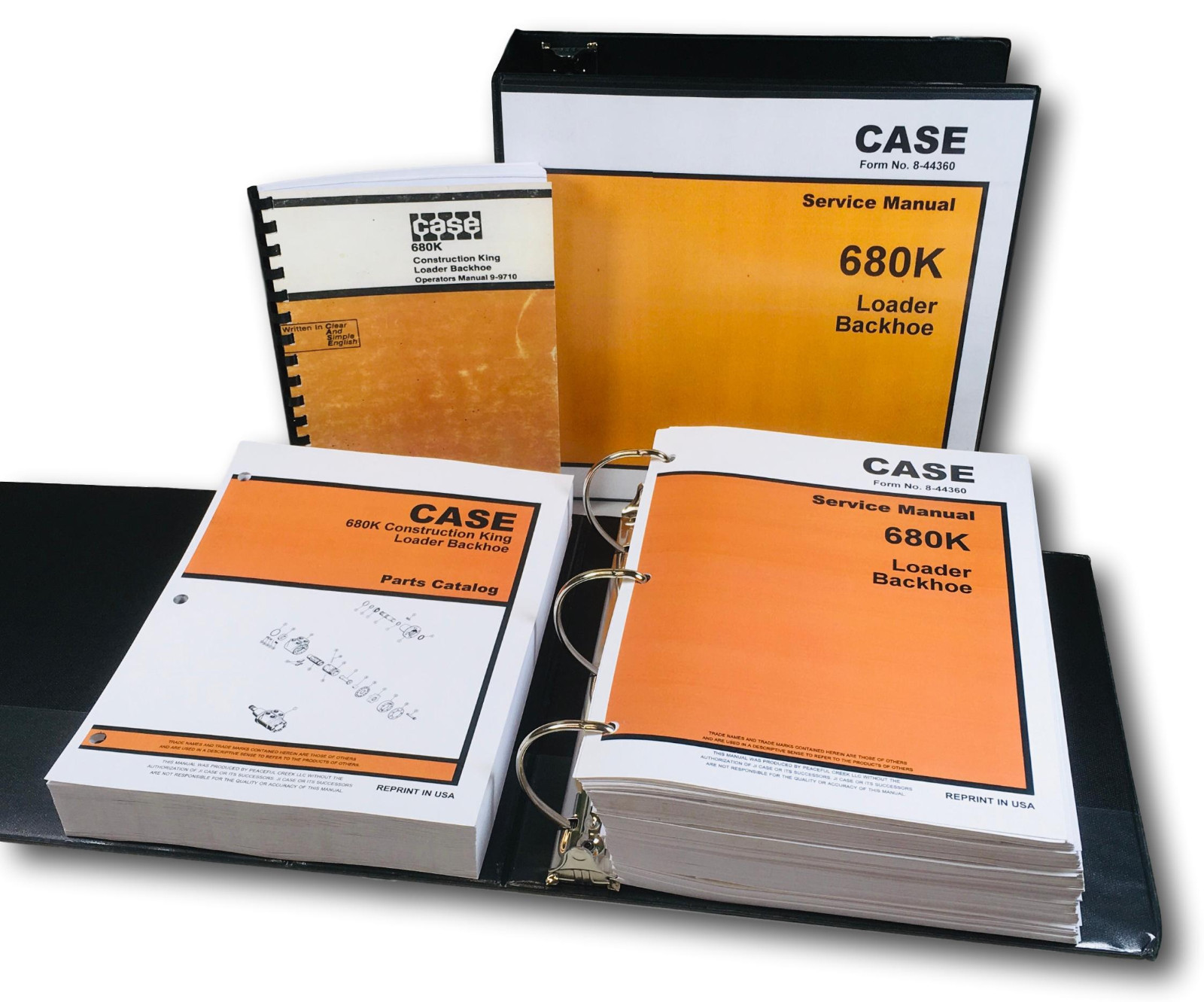 This Comprehensive Manual Contains

2028 Pages
Contents:

General
Safety Rules Service Manual Introduction and Torque Specifications
Maintenance and Lubrication
General Engine Specifications
Detailed Engine Specifications

Engines
Engine Removal and Installation
Engine Accessories, Air Cleaner, Ether Injection, Muffler
Engine Stall Tests
Cylinder Head and Valve Train
Cylinder Block, Pistons, Rods, Camshaft, Main Bearings,
Oil Seals, and Flywheel
Lubrication System
Cooling System

Fuel System
Fuel Lines, Fuel Tank, and Engine Controls
Fuel System and Filters
Bosch Fuel Injection Pump, Drive Gear, and Timing
Fuel Injectors

Electrical
Removal and Installation of Electrical Components
Electrical System Specifications and Troubleshooting
Wiring Schematics
Batteries
Starter and Starter Solenoid, Nippondenso
Alternator, Delco-Remy
Instrument Cluster and Instrument Panel
Alternator, Bosch

Steering
Steering System Troubleshooting
Steering Control Valve and Steering Column
Steering Cylinders.
Circuit Relief Valve and Check Valves
Front Axle

Power Train
Hydraulic Diagram and Troubleshooting the Transmission
Transmission
Transmission Controls
Drive Shaft
Differential and Planetaries
Wheels and Tires

Brakes
Removal and Installation of Air Compressor
Troubleshooting Charts, Operation of the Air System
Air System Diagram
Air Compressor, Governor, Reservoir, and Relief Valve
Brake Valve
Brake Actuator
Alcohol Evaporator
Pressure Reducer Valve, Pressure Protection Valve, Clutch
Cutout Valve, and Stoplamp Switch
Brakes
Parking Brake Control Valve and Quick Release Valve

Hydraulics
Removal and Installation of Hydraulic Pumps
Hydraulic System Schematics, Specifications, and Troubleshooting
Cleaning the Hydraulic System
Hydraulic Pump
Flow Control Valve
Loader Control Valve
Cylinders
Backhoe Relief Valve
Backhoe Control Valve
Removal and Installation of Stabilizer Control Valve
Stabilizer Control Valve
Boom Lock System

Mounted Equipment
Air Conditioning Troubleshooting and System Checks
Air Conditioning System
Loader
Rops Cab and Canopy
Seat, Seat Belts, and Seat Support
Backhoe
Noise Control

Electrical Schematic 24 Volt System
Instrument Cluster 12 Volt System
Main Harness 12 Volt System
Engine Harness 12 Volt System
Rear Harness 12 Volt System
Cab Harness 12 Volt System
Canopy Harness 12 Volt System
Hydraulic Schematic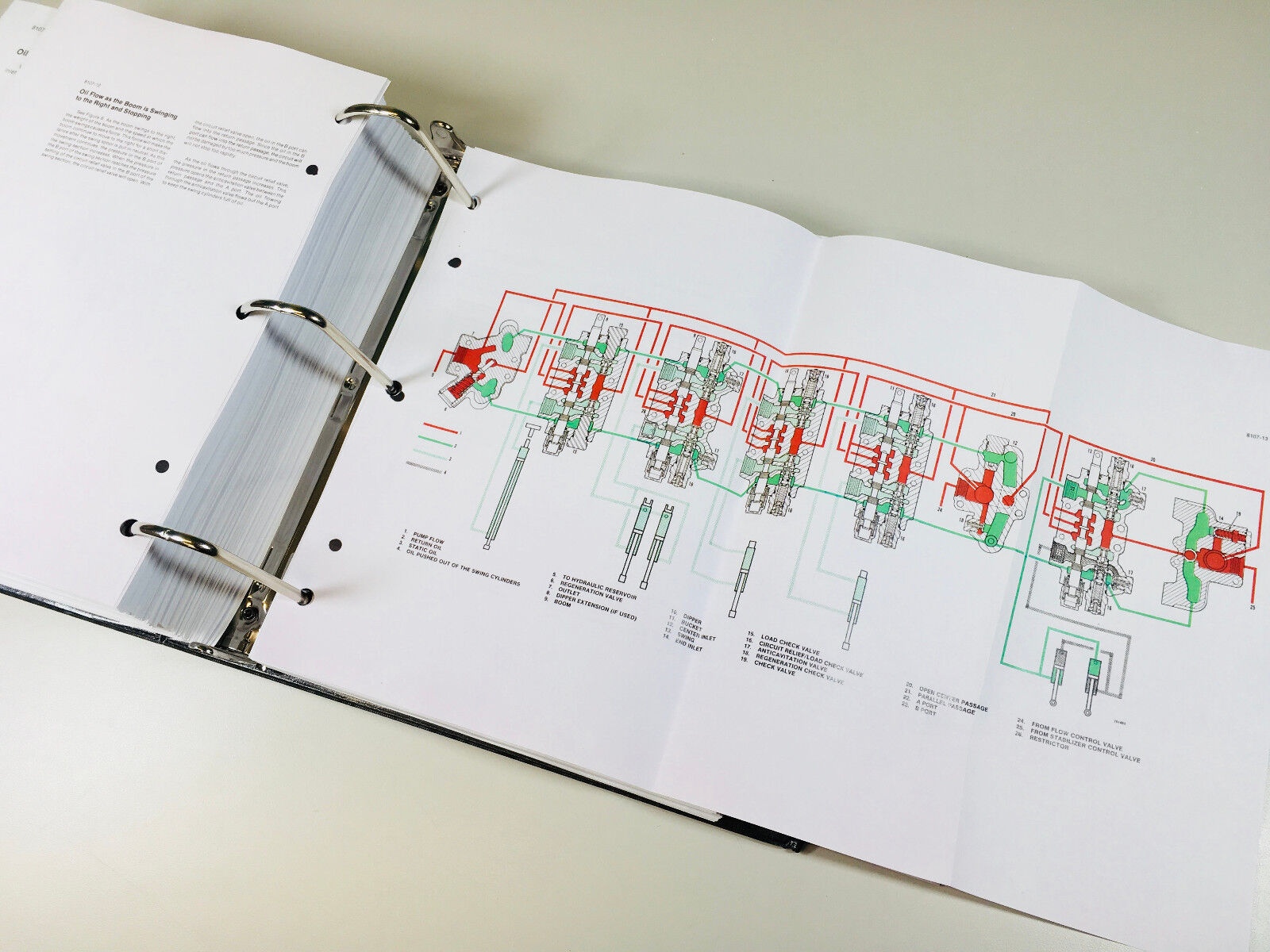 This extensive manual set includes:

✔  How to Troubleshoot and Repair your Machine

✔  Easily Find all Parts Numbers for Ordering Parts
✔  See how all Components are Assembled
Also:

✔ Learn all the Controls, Features and Operations of your Machine

✔ Keep your Machine Adjusted and Correctly Serviced for Long Life......
and Much More!
Free & Fast Shipping and No Hassle Returns!

Orders placed before Noon Central Time generally get shipped the same day!
This is a new reproduction of a Factory, Original Equipment Manufacturers (OEM) Manual
 
100% Satisfaction Guaranteed or Your Money Back
Our Manuals Help You Keep Things Working
Fine Print: Ebay Listings, photos and compilation materials © 2015 Peaceful Creek LLC. ~All Rights Reserved~
Ebay: We are authorized by United States copyright law to use this material for commercial purposes.
This manual(s) is public domain: no notice of copyright pre-1989; or copyright expired, or not registered, or not renewed.