FARM GAS ENGINE HIT AND MISS VINTAGE BOOK MAGNETO CARBURETOR CART OILER REPAIR
If you love hit or miss engines, this reprinted ©1914 book will give you a good working knowledge of many specific engines like IHC, GRAY, CUSHMAN, INGECO, FULLER and JOHNSON, RUMELY-OLDS, MANYLEY, NOVO, BESSEMER, FAIRBANKS-MORSE and MORE.
Some recent comments:
*Thanks Jay, nice book, fast ship, secure pack, very satisfied, recommend! Ken

*Delighted with the item and the fast shipping. Packed well, too! Thanks, Kathy

*Lovingly wrapped for safe shipment - - Thanks for good customer service! :-)
*I love this book-Perfect transaction-Thanks!
*WOW... fast... fair... and on the ball !!!!! Thanks.
First this book give a wide overview of how Farm Gas Engines from the period work:
*The fuels available for the engines with the pro's and con's of each.
*Learn the difference in efficiencies between Steam and Gas.
*Understand the principles of the early gas engine through the chapters on mechanical construction, the principles of operation and understanding horsepower.
Then, in order to deepen your knowledge on how the specific engines work it teaches about the differences in the engine Cooling, The Valve Systems, Carburetors, Electric Ignitions, Governors, Lubrication, Mufflers and More!
It explains the different cooling systems like:
*Pressure Systems
*Tanks
*Hoppers
*Screen and Air
*Liquid cooling versus Air Cooling
It gives you a working knowledge of each type of carburetor whether it be suction, forced or float feed.
You will learn about all the different types of Electrical Ignitions and their components:
*Simple Magneto
*Magnetos
*Electromagnets and Generators
*Low tension and high tension
*Timing the ignition
*High Tension Magneto Ignition
*The Wico Igniter
See and understand how the Governing Systems work:
*The methods of governing
*Hit and Miss Governing
*Quality and Quantity Governing
*Examples of Throttle Governing
How are the engines lubricated?
*What needs lubricated
*Splash Systems
*Cylinder and Wrist Pin Lubrication
*Crank pin lubrication
*Centralized and Forced-Feed Lubrication
What constitutes and good engine?
Learn the best mechanical features of each type of engine and what brands had the best type of construction.
You will get a full mechanical knowledge of each of the mentioned brands of engines in the last 1/3 of the book.
IHC, GRAY, CUSHMAN, INGECO, FULLER and JOHNSON, RUMELY-OLDS, MANYLEY, NOVO, BESSEMER, FAIRBANKS-MORSE and MORE.
*How each brand was constructed
*How they work
*What types of mechanical systems are on each kind of engine 
*And many other specifications.
Since this book was written in a time period when they were actually using the engines on the farm, this would have been a valuable book for the farmer to use for:

*Determining how the engines worked
*Which type of engine he should buy for his needs
*And most importantly how he should maintain and repair his brand of Farm Gas Engine!
This is a newer reprinted softcover book in very good condition. Has clean cover, clean pages and a tight binding. Measures 8x5" and contains 239 pages. Gas Engines for the Farm, C.F. Hirshfeld and T.C. Ulbricht 
I have a rock solid 100% money back guarantee!
Use this material and enjoy it! If you are unhappy with it for whatever reason just return it within the next 365 days (a year) and I will refund your money 100%.
I'll even pay the return shipping costs!
*Purchase this book by buying it now then go to Our Store

and check out my other Hit and Miss Items!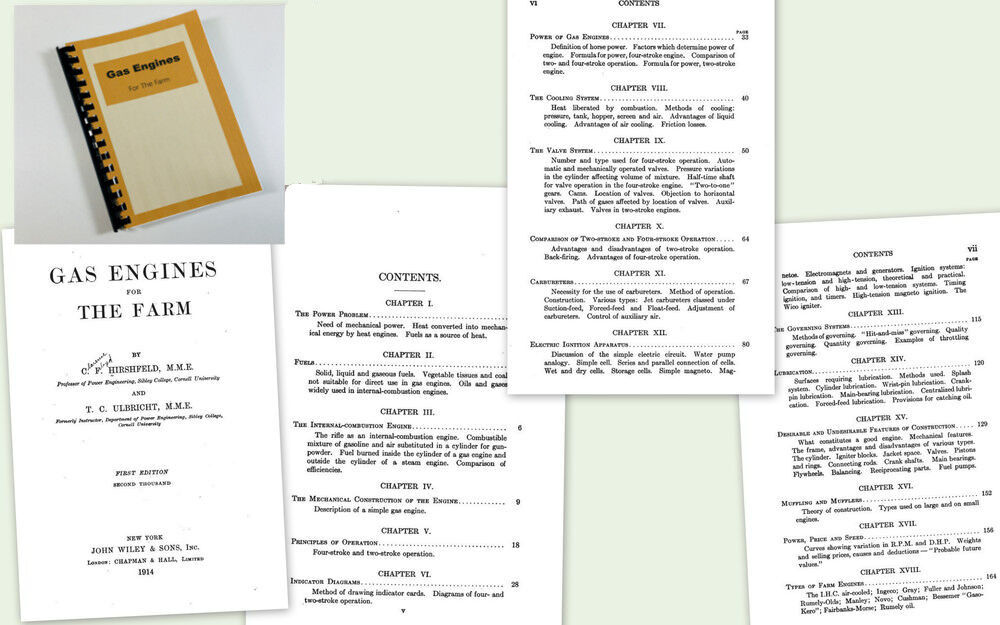 Easy Payment and Shipping Details

We have flexible payment terms


We ship out every day.


We make sure your items arrive safe and well protected!

International Buyers are responsible for import duties and taxes. We can't ship your item as a gift.
If you have any questions at all please write to us via the eBay message system to ensure we receive your message.

Thanks!

P.S. Remember the 100% satisfaction guarantee