MASSEY FERGUSON TO-30 TO-20 TE-20 TRACTOR FACTORY SERVICE SHOP MANUAL 20 30
Massey Ferguson Tractor Service Manual
&
Specifications/Maintenance Guide

Covers:
1946-1948 TE-20

1948-1951 TO-20
1951-1954 TO-30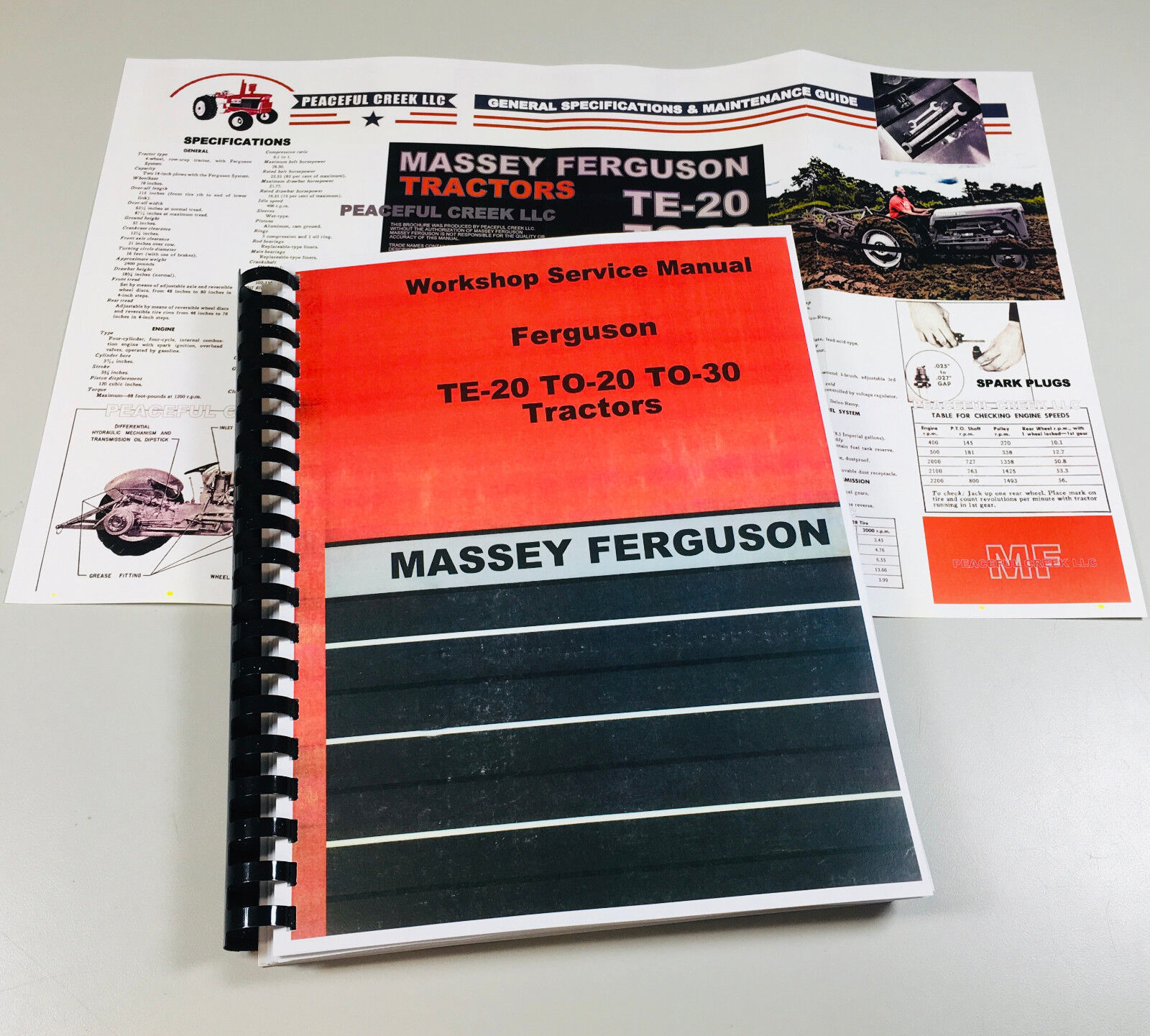 192 pages.....Thick, comprehensive manual.....Most complete and up-to-date original equipment manufacturers manual available. Includes all revisions if available.
Shipped out quickly....Orders placed before 1:00 Central Time are generally mailed the same day!
Manuals are In Stock and Ready To Ship......No worrying about backorders!
Service and Repair Contents:

Continental Z-120 Gas Engine
Continental Z-129 Gas Engine
Cylinder Head
Valve Train
Cylinder Block
Piston Assembly
Crankshaft
Main Bearings
Seals
Cam
Timing Gears
Governor
Flywheel

Clutch
Specifications
Lubrication
Cooling
Fuel and Air
Carburetor
Electrical
Starter
Generators Delco and Lucas
Coil and Distributor
Transmission
Differential
Rear Axle
Brakes
PTO
Hydraulic Lift
Leveling Box
Ferguson System
Front Axle and Wheels
Steering Assembly
Much Much More!
This is a new reproduction of an OEM Original Equipment Manufacturers manual.
Our Manuals Help You Keep Things Working
Fine Print: Ebay Listings, photos and compilation materials © 2015 Peaceful Creek LLC. ~All Rights Reserved~
Ebay: We are authorized by United States copyright law to use this material for commercial purposes.
This manual(s) is public domain: no notice of copyright pre-1989; or copyright expired, or not registered, or not renewed.