OPERATORS PARTS MANUALS FOR JOHN DEERE A AW AH AN AR AO TRACTOR CATALOG OWNERS
JD A Series Operators and Parts Manuals
Reproduction of the Factory Manuals

Includes Two Printed Manuals:

Operators Manual

and
Parts Manual (PC-675)
Covers JD A Series Styled Tractors:

 A
 AW
 AH
 AN
 AR
AO

 Serial Numbers:
477000 to 583999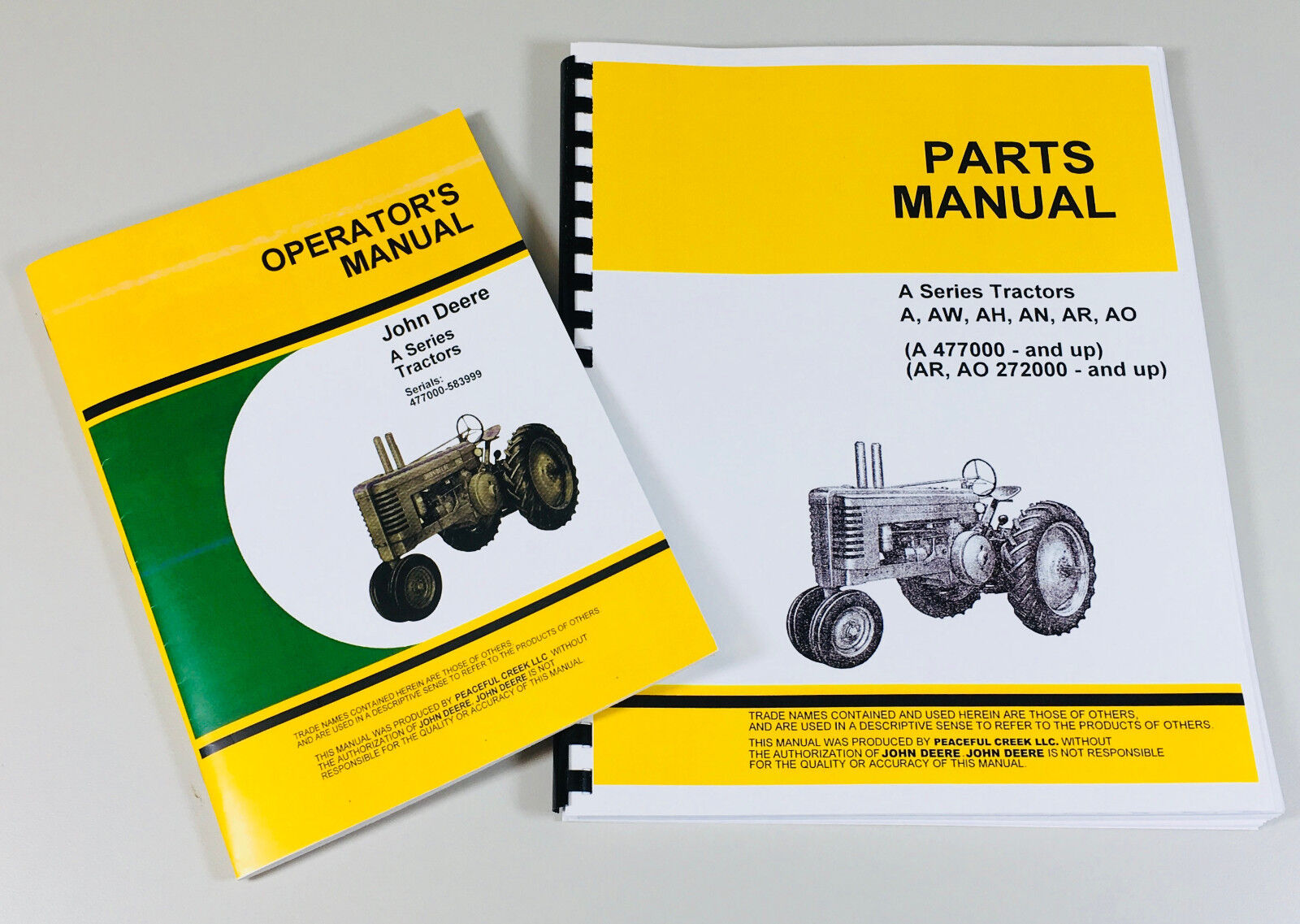 New reprint manuals with combined total of 240+ pages......Very Comprehensive Manuals. 
Complete Parts and Operators Manuals for all components of the "A Series" Tractors.
Shipped out quickly....Orders placed before noon central time generally go out same day!
These are bound manuals....no need to buy a $5 binder just to hold it together!
We're NOT AFRAID to show you what our manuals look like!
We Sell Printed and Bound Manuals


These manuals are: in stock, ready to ship 
The parts manual includes:
exploded parts views
 numerical index
 parts lists and more
 for all the A family of tractors.
A parts manual will show you how things "go back together again" with their exploded parts views.
Extremely helpful with carburetors, hydraulic controls, gearboxes and the like.
These are new reproductions of OEM Original Equipment Manufacturers manuals.

Our Manuals Help You Keep Things Working



Listings, photos and compilation materials © 2011 peacefulcreekauctions ~All Rights Reserved~
We are authorized by United States copyright law
to use this material for commercial purposes.
Public domain: no notice of copyright pre-1989; copyright expired or copyright not renewed