SERVICE MANUAL FOR JOHN DEERE 4020 4000 TRACTOR TECHNICAL SHOP BINDER TM-1006
JD 4000 4020 Dealers Technical/Service Manual
Reproduction of the Factory Manuals

Covers Models 4000 and 4020
Diesel, Gasoline and LP Tractors
Syncro-Range and Power Shift Transmissions
Manual TM-1006 for tractors with a serial number over 201,000

For tractors under 200,999 you need manual number SM-2039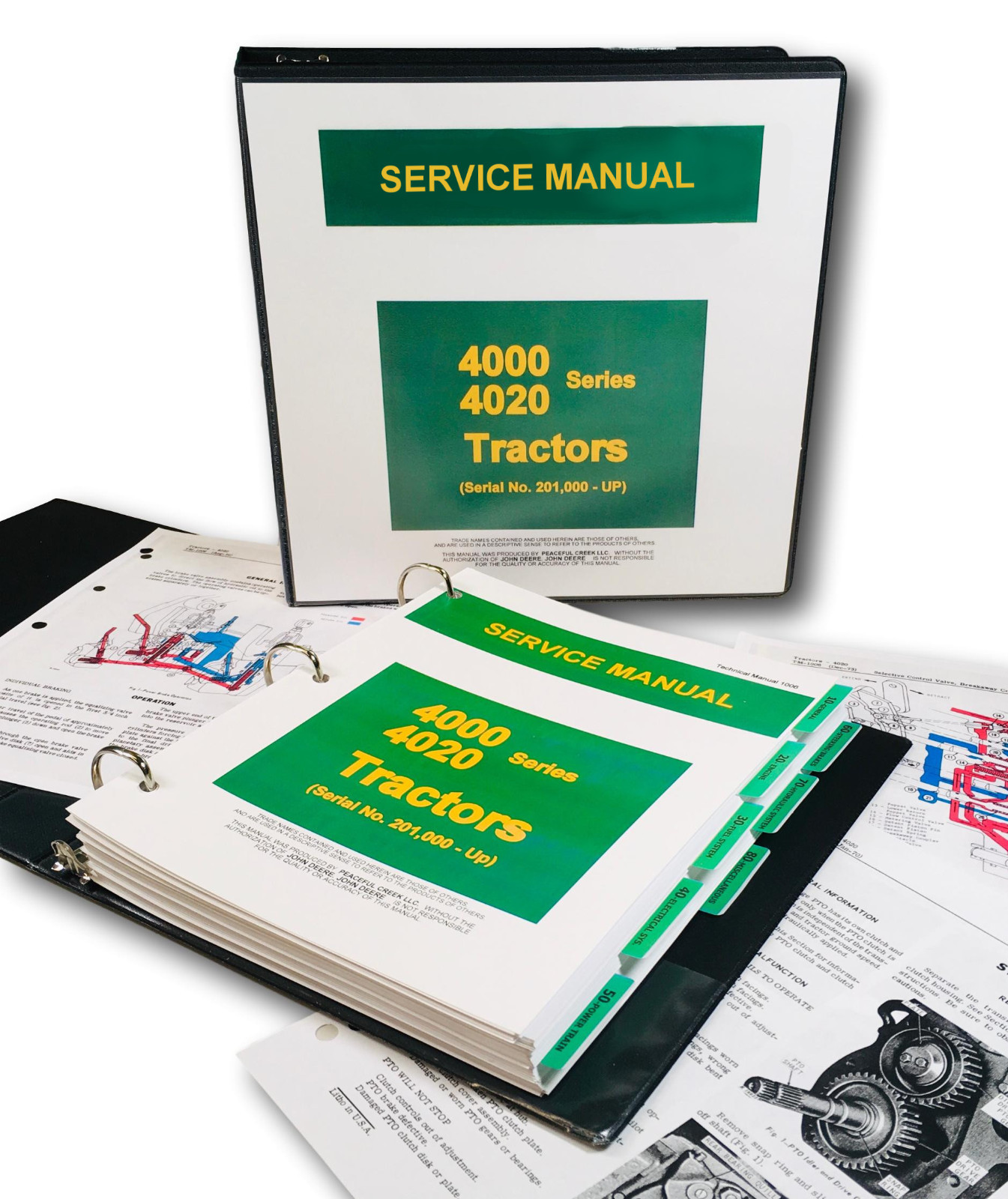 New reprint manual with all 375+ pages, Measures 8x11 and is a good thick manual......Very Comprehensive Manual.
Complete Repair, Service and Overhaul Manual for entire Tractor.
Get it fast with Free Shipping

and orders placed before Noon Central Time generally go out same day!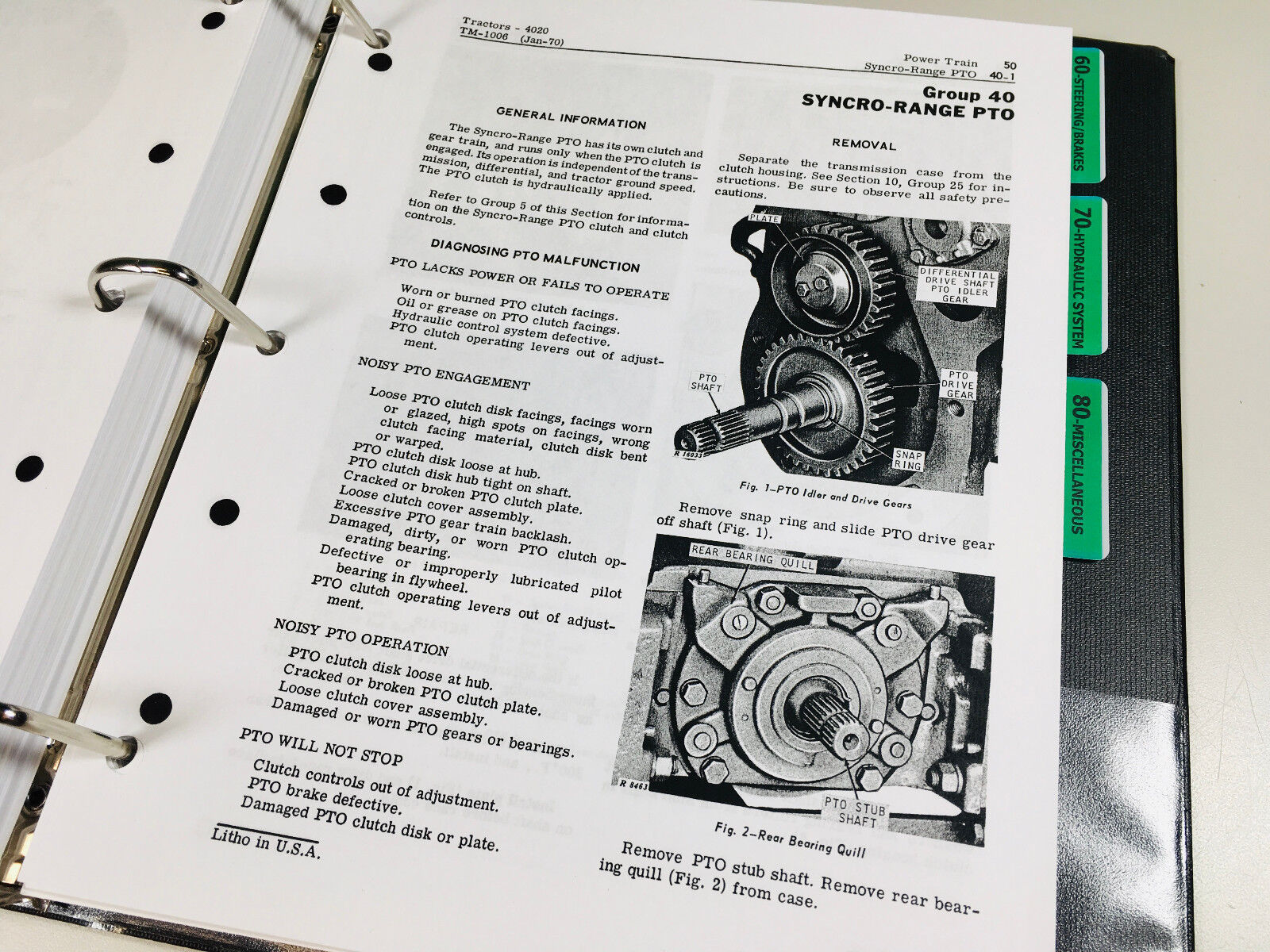 This manual has chapters covering service, repair, overhauling, etc:
Description, Operations
Troubleshooting

Tune ups and adjustments

Specifications
Lubrication and Periodic Service
Engine Tune Up and Tractor Adjustment
Separation
Complete Engine Overhaul

Engine Lubrication Systems
Engine Cooling System
Gasoline and LP Gas Fuel Systems
Diesel Fuel System
Clutch (Syncro-Range) and Belt Pulley
Clutch (Power Shift)
Syncro Range Transmissions
Power Shift Transmissions
Differential
Final Drive Systems
High Crop Final Drive

Power Take Off (Syncro-Range) and Belt Pulley
Power Take Off (Power Shift)
Sheet Metal
Electrical Systems
Seats
Front Axle Equipment
Power Front Axle

Wheels, Tires, and Weights
Hydraulic Systems
Hydraulic Pumps
Power Steering
Power Brakes
Rockshaft and 3-point hitch
Remote Cylinder Selective Control Valve
Breakaway Couplers and Remote Cylinders
Drawbar
Trouble Shooting
Special Tools
and More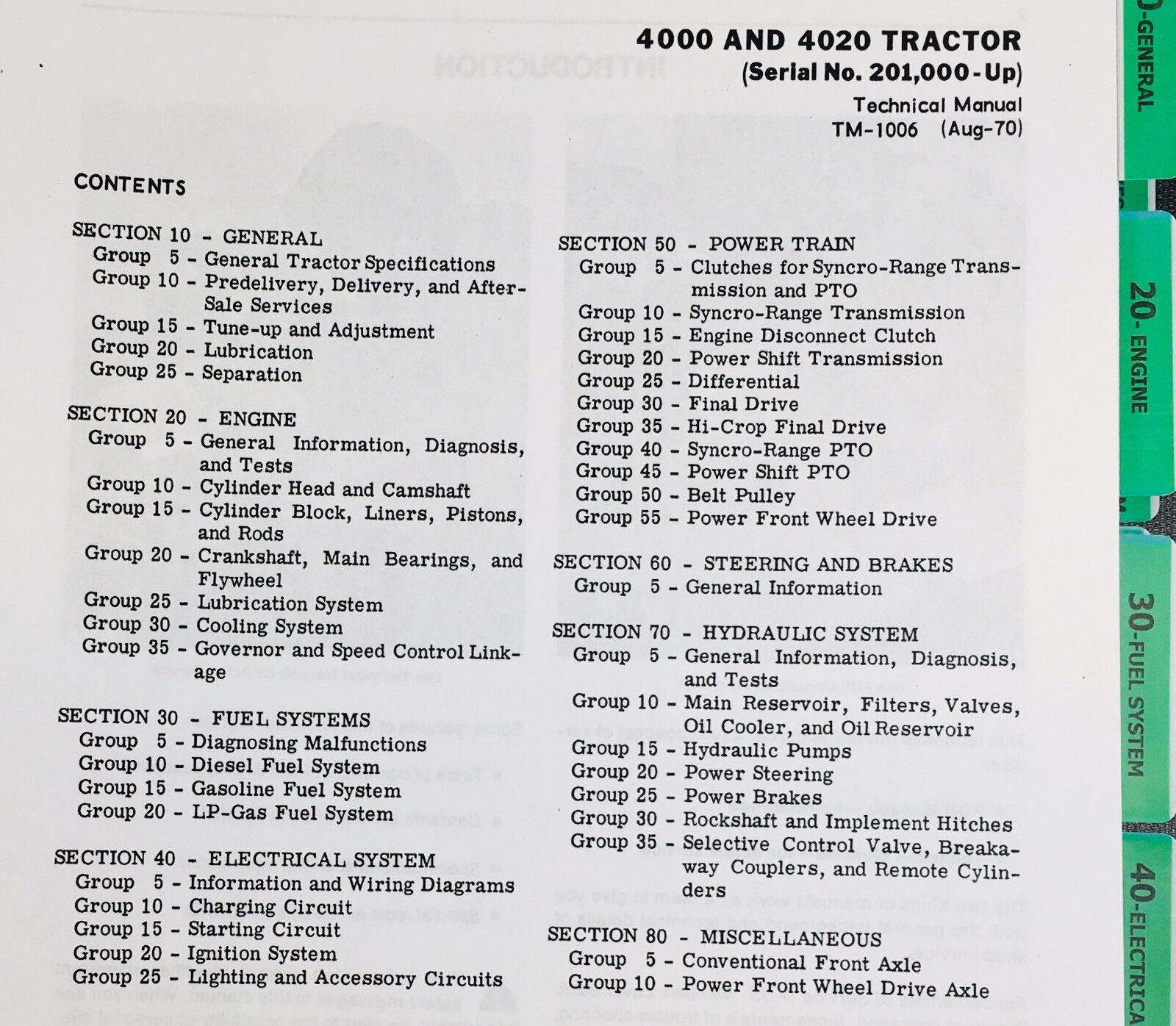 This service manual shows you how to repair and overhaul components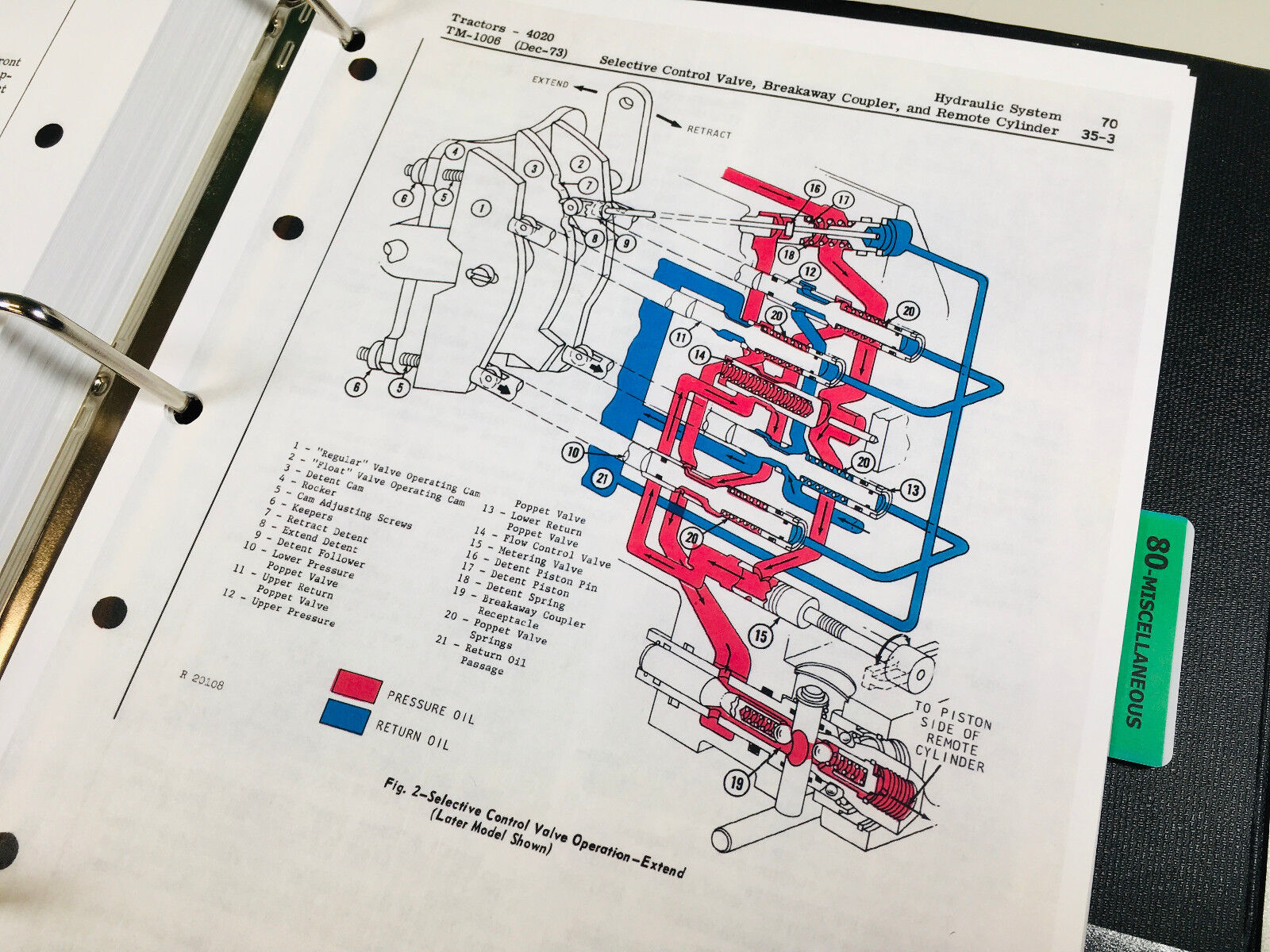 Full color charts and flow diagrams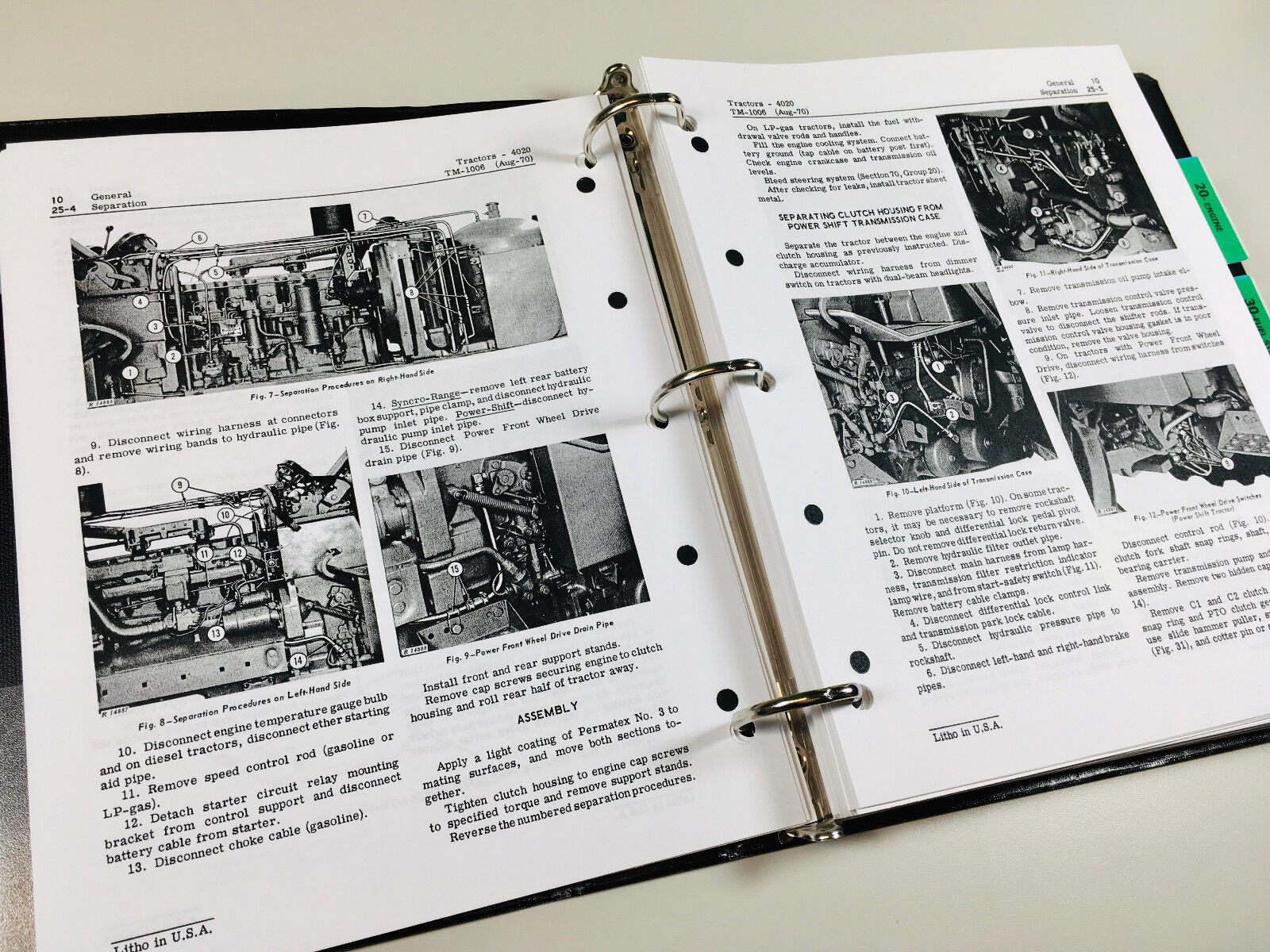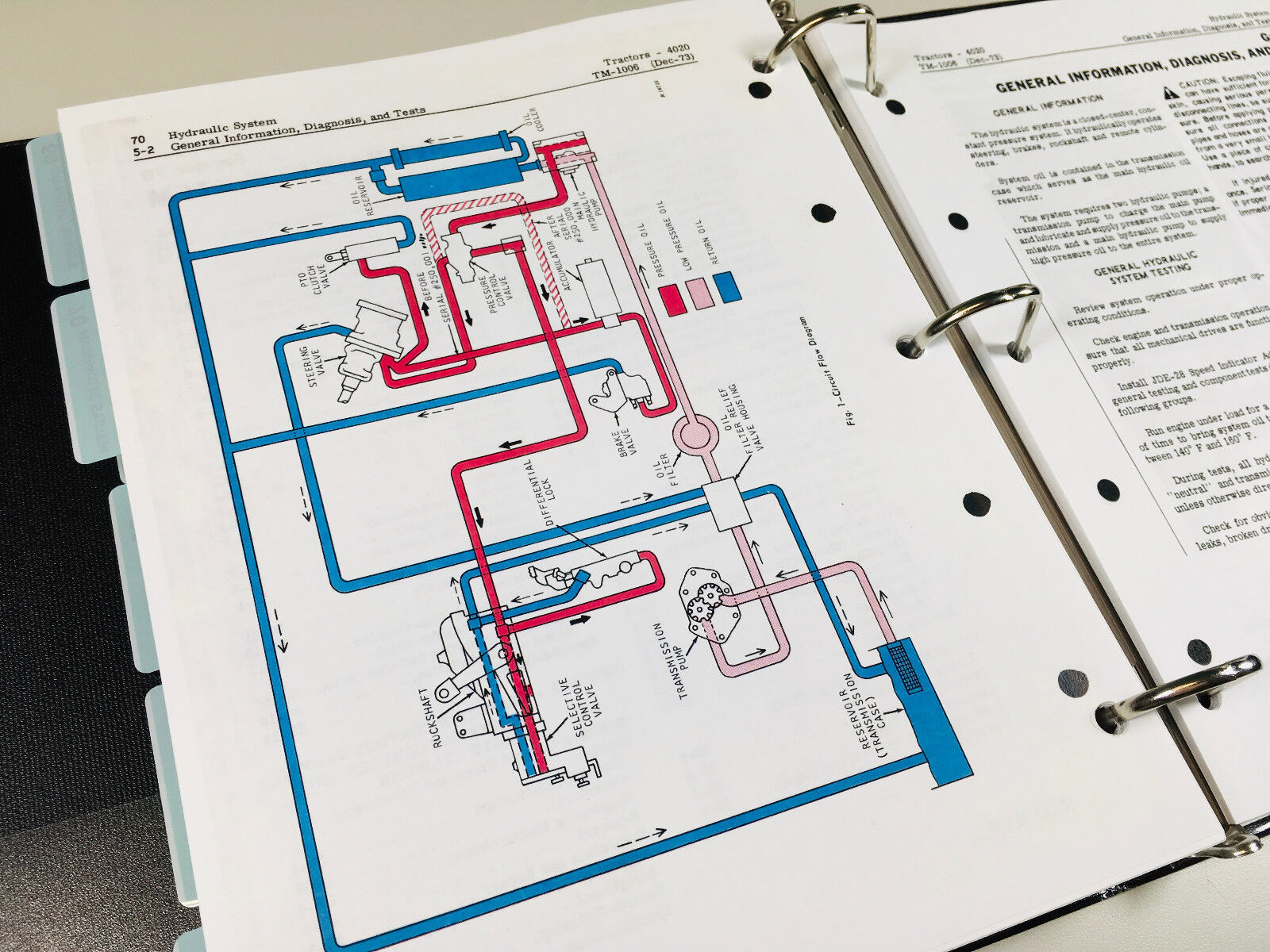 This is a new reproduction of an Original Equipment Manufacturers (OEM) Manual
Our Manuals Help You Keep Things Working
Fine Print: Ebay Listings, photos and compilation materials © 2015 Peaceful Creek LLC. ~All Rights Reserved~
Ebay: We are authorized by United States copyright law to use this material for commercial purposes.
This manual(s) is public domain: no notice of copyright pre-1989; or copyright expired, or not registered, or not renewed.