SERVICE MANUAL SET FOR JOHN DEERE A AW AH AN AR AO TRACTOR SERVICE REPAIR PARTS
Master Service/Repair/Parts Manuals for JD A Series

Two Manuals:
A Series Master Service Manual
and
A Series Parts Catalog

The Service Manual is a 572 page compilation of manuals covering the A Tractor.....
Because of the way JD made their early service manuals, there is some info that will apply to other letter series tractors as well.
Complete service and parts manuals for the JD A Series.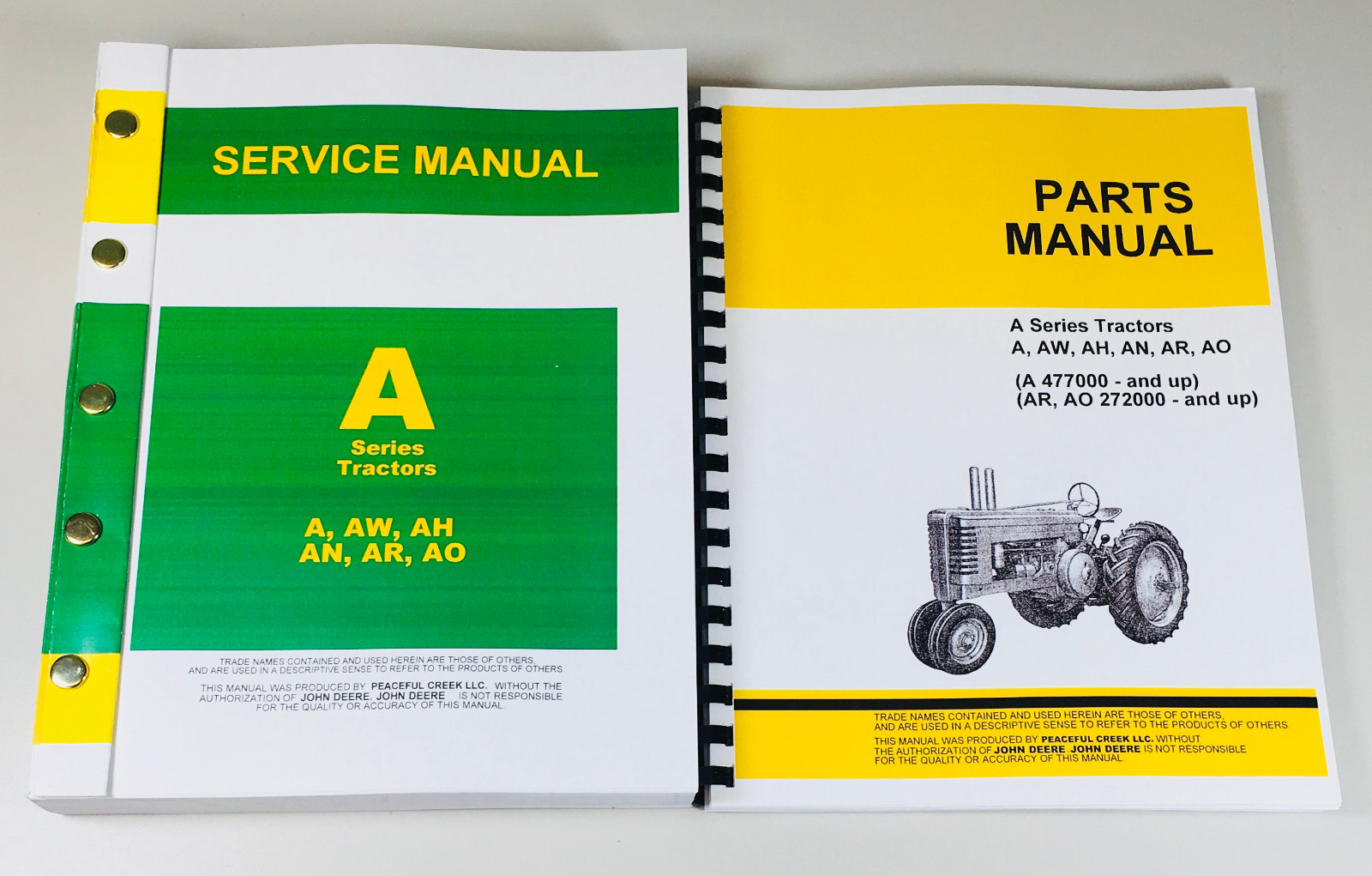 Service manual is compiled of the following manuals:
SM-2000 Tractors and Engines
SM-2029 Electrical Systems
SM-2011 Hydraulic Equipment
General Letter Series Service Manual

and More!
Much of the service information can be applied to the UN-Styled A Tractor as well....there were not many differences mechanically.
Covers JD A Series Tractors:

 A
 AW
 AH
 AN
 AR
AO
New printed manuals with combined 740 pages, Measures 8x11 and is 1.5" thick......Very Comprehensive Manuals 
This is the most complete Service Shop Manuals for the "JD A Series" Tractors on the market today!
Free Shipping

Shipped out quickly in a protected box....Orders placed before noon central time generally go out same day!
These are bound manuals....no need to buy $5 binders just to hold them together!
We're NOT AFRAID to show you what our manuals look like!
We Sell Printed and Bound Manuals ~ NOT loose photocopies or cheap CDs"


This manual is: in stock, ready to ship 
This Shop Manual has chapters and instructions covering service, repair, overhauling, etc:
Specifications
Governor and Fanshaft
Shop Tools and Equipment
Engine
Heads, Valves and Valve Seats
Engine Lubrication Systems
Engine Cooling System
Ignition and Electrical Systems
Electrical Equipment
Fuel Systems
Rebuilding Carburetors
Pulley, Clutch and Pulley Brake
Transmission 
Differential and Final Drives 
Brakes
Steering, Pedestal and Front End
Powr-Trol and Power Lift
Hydraulic Systems
Valve Housings
Basic Housings
Hydraulic Pumps
Remote Cylinders
Trouble Shooting
And Much More!

The parts manuals has:
Exploded views of all assemblies
Numerical Index
Parts Numbers
The parts manual is particularly handy for re-assembling items once they are tore apart and laying all over the workbench.....it shows you in the pictures how it goes together again!
Don't settle for less when doing repairs on your A tractor!
These 740 pages of manuals have all the technical knowledge you will need to rebuild your tractor from the ground up!

The service manual is a new, compiled reproduction of many original tractor service manuals all in one book.
Included in the compilation are Original JD Shop Manuals:
SM-2000 Tractors and Engines
SM-2029 Electrical Systems
SM-2011 Hydraulic Equipment
General JD Letter Series Service

and More!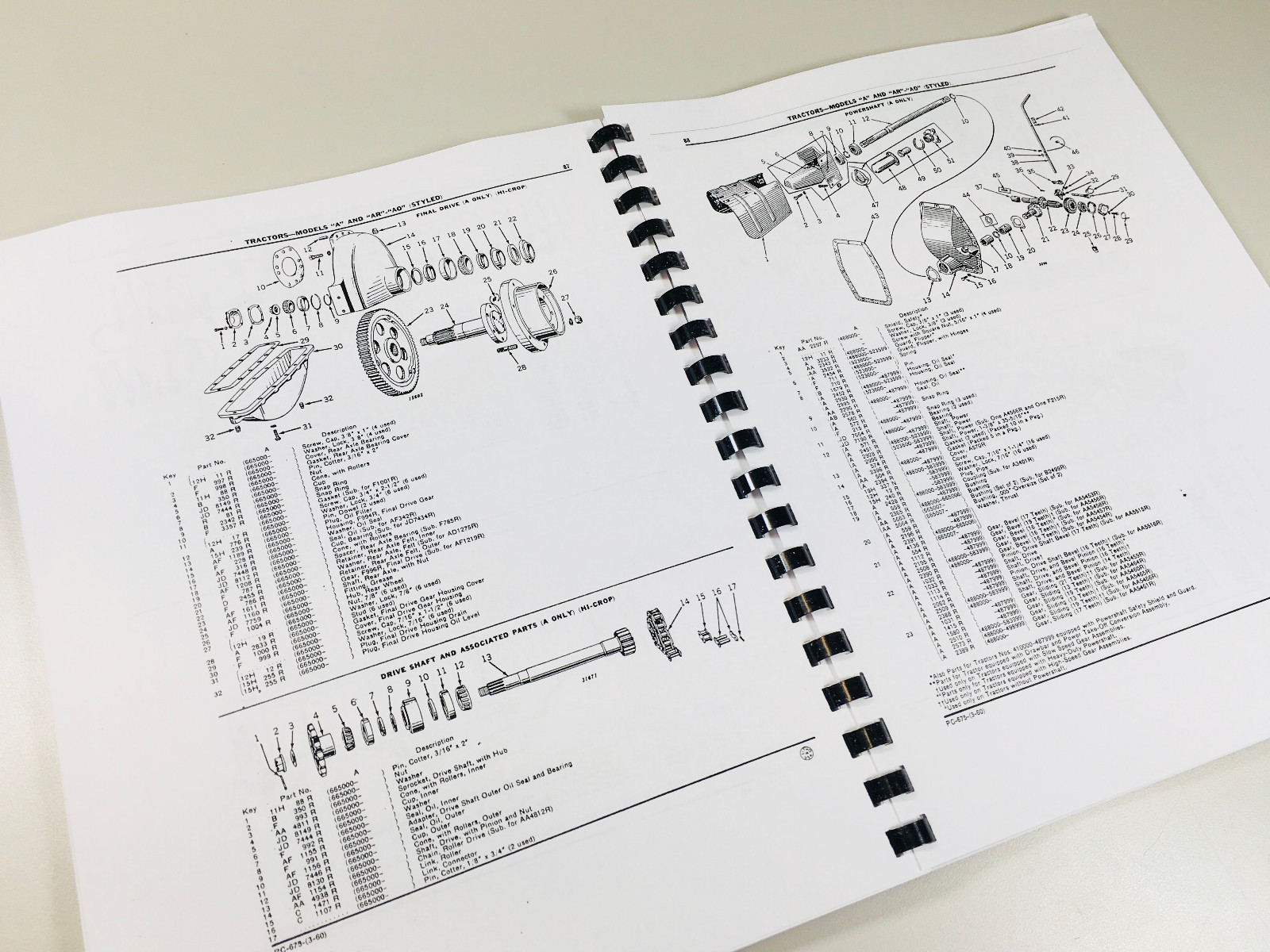 Our Manuals Help You Keep Things Working



Listings, photos and compilation materials © 2012 peacefulcreekauctions ~All Rights Reserved~
We are authorized by United States copyright law
to use this material for commercial purposes.
Public domain: no notice of copyright pre-1989; copyright expired or copyright not renewed